A Long Story. . . a Renewing Cycle

Ah… a bracelet… Like a ring, you always see it. It is a very personal piece. Like a ring, it encircles you with its energy…
It tells the story of the seasons which exist in everything. It reminds you of each step needed in the process of change, from clearing cluttered  space within ourselves to the creating our dreams; A bracelet represents the eternal cycle of our lives, going ever deeper in the reclaiming of the totality of who we are, layer after layer after layer…
The symbolism is very strong. The main sentence is engraved on the center piece of the bracelet. however, there is also a short phrase written in the back of each piece to help you anchor deeper the meaning of each link. Each link is therefore a miniature story unto itself.
Being Part of the Story, Living each Season

The idea is to participate in the story….A bracelet is like a brand new house. All the needed elements are there, but you still need to make it yours by painting walls, adding furniture and so on… Play with the design, see how each element represents a part of your inner-self, a part of your life, some of it known or resolved, some of it not.  Make it be a part of who you are at the deepest level!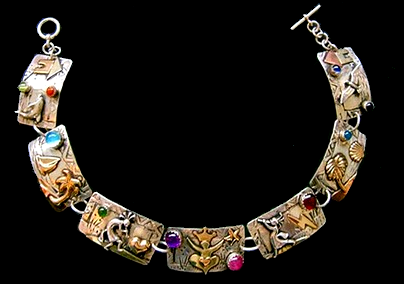 "I Am becoming Whole, Fully balancing All aspects of Me"
(Sterling Silver, 3 colors of 14K)       $585.00
Stones -from left to right: peridot, sunstone, topaze, green tourmaline, amethyst, pink tourmaline, garnet, topaze, amethyst, iolite)

…" Being the  Full Strength of my Whole Spirit. . ."
(SS – 3 colors of 14K – semi-precious stones)  $585,-

"When I Know my Storms, I can help Others Rebuild"
(SS, 3 colors of 14K, semi-precious stones) $585
"When Storms hit, I let them Be, I Learn from them…"
(SS, 14Kygr, semi-precious stones) $589,-

"From one pole to another, I Dance… experiencing, 
understanding, integrating, being, loving, sharing, helping it all"
(935 silver, yellow, rose and green14K, semi-precious stones)    595,-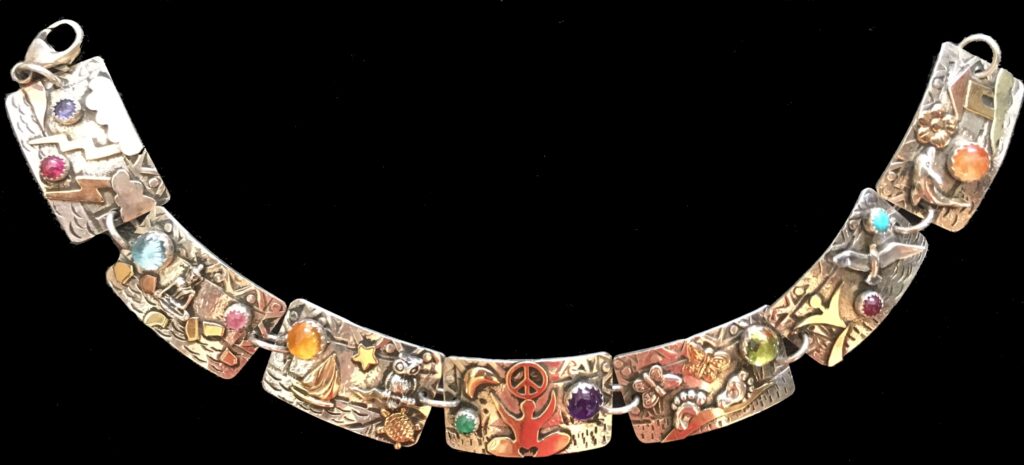 "When Storms Hit, I Sit with Them to Understand and Find Peace. Then I can Transform What I Learnt, Create Anew and Free, and Blossom Evermore"
(935 silver, 14K in 3 colors, semi-precious stones)  595,- 
**********************************