A  purposely different but very matching  set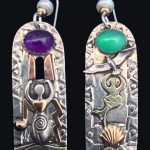 The concept behind my earrings is simple but powerful and full of symbolism:. Each earring in a set  has a different design but both go very purposefully together: Indeed,  they are linked together by the fact that each one is  holding the energy of  half of the sentence written in the back. . . Together, they tell a true story of change, one which I have lived. . . . So when you wear the earrings, the idea is that you become part of this story of change, you are automatically immersed in it. Indeed, you are surrounded by the beginning on one side and the end result on the other side, so the energy of what it took for me to go through that change litterally passes through you.
A LEFT & A RIGHT EARRING
 I am often asked why I make left and right earrings. . . Attentive intention is an important ingredient of change. . .In having to think for one second which earring goes where, you remind yourself that these earrings are not ordinary and have a purpose in your life beyond being simply beautiful. At that very moment, you reconnect with the deep inner reason you want to wear those earrings. They have a meaning for you, they represent the inner you and what you are walking toward, or something else all together, but nevertheless very precious…
NOTE: The  semi-precious stones are 6x8mm & 3mm.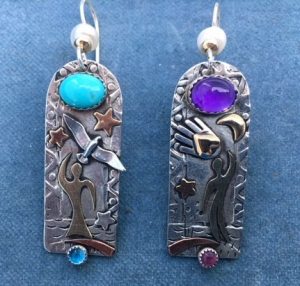 "My Feminine Self Learns Freedom. My Masculine Self Learns Love. Together, We Are Whole"
(Argentium Silver- Rose, green & yellow 14K, turquoise, amethyst, aquamarine, pink tourmaline)  $269,-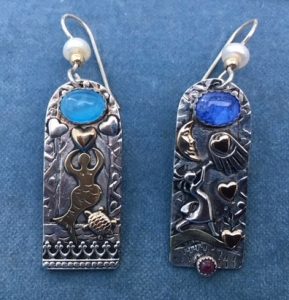 "The Better I Care for Myself, The Better I Can Care for Others"
(Argentium Silver – yellow, green & rose 14K, aquamarine, alexandrite, ruby) $259,-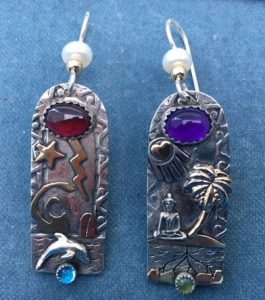 "When Storms Hit, Its is an Opportunity to Rebuild Anew and Better than Ever"
(Argentium silver – yellow, green & rose 14K, garnet, amethyst, aquamarine, peridot) $265,-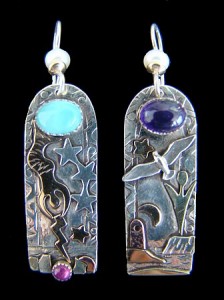 "In the Mysterious Depths of My being, I Find the Magic of Home, Free and Infinite"
(SS, 3 colors of 14k gold, ruby, larimar, amethyst) $265,-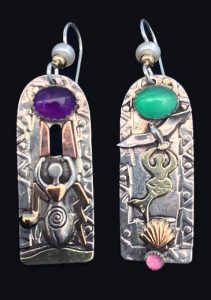 "When I am All That I am Am, I Can  Do What I Thought was Impossible"
(SS, 3 colors of 14K, Chrysoprase, amethyst, tourmaline) $269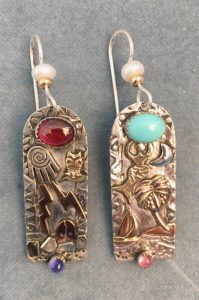 "When I Stop Pushing, One Door or Another Opens to Create What I Wished"
(SS, 3 colors of 14K, turquoise, garnet, iolite, tourmaline)  $255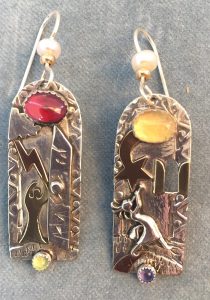 "When a Most Important Door will not Open, I Must Go into the Unknown and Find a Window"
(SS, 3 colors of 14K, garnet, citrine, iolite) $269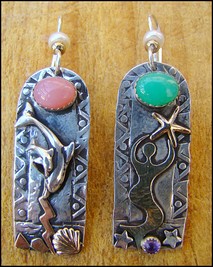 "With Tender care and Power, I Dig into my Past…I leave no Stones Unturned, and When All is faced, I Find the Real Me"
(SS, 3 colors of 14k, pink opal, chrysoprase, iolite) $265.00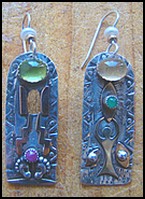 "Persistence, Courage and the Determination to Step off the Edge…Are Reopening My eyes"
(SS, 3 colors of 14k, peridot, citrine, ruby, emerald) $265.00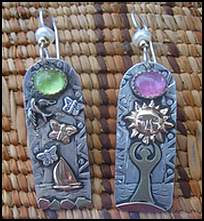 "With Courage, I let go of the broken Pieces of my Life to Create a New Me"
(SS, 14K yg r, peridot, pink tourmaline) $265.00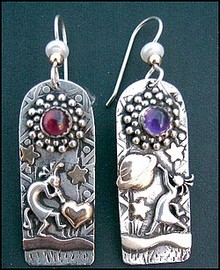 "I Connect with the Universe. He Connects with Love.Together, We are One"
(SS, 3 colors of 14K, Garnet, Amethyst) $239.00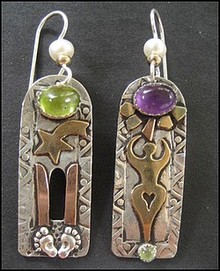 "As I Grow and Enter the Unknown, I can at last Reclaim and Heal all Aspects of Me"
(Sterling Silver, 3 colors of 14K Gold, Peridot, Amethyst)  $255.00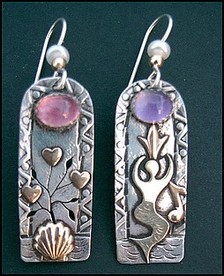 "Real Self-Love is the Secret to My Power and Beauty"
(SS, 3 colors of 14K, Pink tourmaline, Amethyst)  $255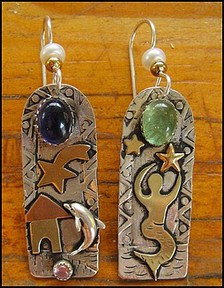 "With the Feeling of Home within me, I become a Magician Playing with the Stars"
(Sterling, 3 colors of 14K, Amethyst, Pink tourmaline, Peridot)   $260.00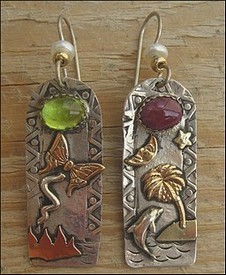 "I courageously Burn the Old to Create a greater Paradise"
(Sterling Silver, 3 colors of 14K Gold, Ruby, Peridot)    $245.00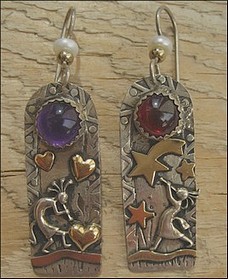 "He Learns to Love, I Reclaim my Power. Together, We are One"
(Sterling Silver, 3colors of 14K Gold, Garnet, Amethyst)   $245
************************************************************************