Making  a Statement to Others and the World
A pendant  sends a strong statement to others because it is very visible to someone who looks at you. It "sits" near your heart (who you are) or your throat (what you are speaking) and thus "defines" the energy that radiates from you out to the world..  So wearing one of these  pendants filled with symbolism and energy helps you announce to the world who you are and what you stand for.
Mixing the ageless look of my pieces with the contemporary look of the smooth tube, brings a contrast that I find very appealing, like a complete look that includes two opposites.
Those pieces are medium to large size and also incluse an ADJUSTABLE chain, max 20″ and as short as you need at any time, so you can adjust to the top you are wearing.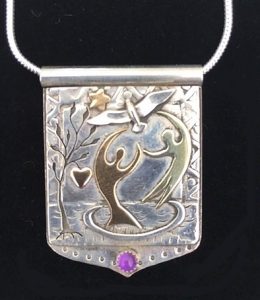 "My Ultimate Freedom is To Let Others Free"
(SS, 14K yellow & green gold, amethyst) $249,-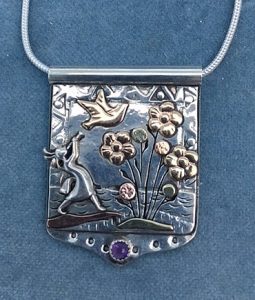 "As I Walk Forth, Beauty & Peace Can Always Be Found, No Matter Where I Am"
(Argentium silver – Yellow, green &rose 14K, amethyst) $235,-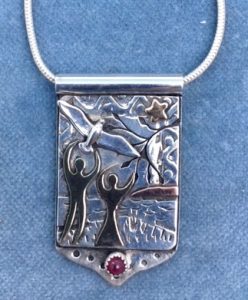 "Oh, What if I was a Bird…"
(Argentium silver- Yello w, green & rose 14K, ruby) $210,-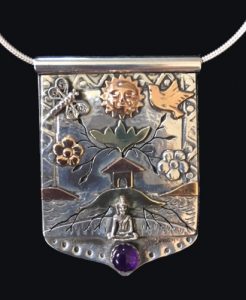 "In the Midst of Many Worlds, I Sit, I Ponder…
The Home of my Soul radiates with It All"
(SS, 14K yellow, green & rose gold, amethyst) $ 325,-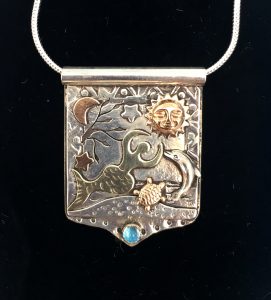 "From the Deep to the Light, I Am Always Magical"
(SS, 14K green & yellow gold, aquamarine) $249,-
"No Matter What Happens, I Keep on Walking, Growing, Blossoming"
(Sterling silver, 14K yellow, green & rose gold, turquoise)  $210,-
"What I learn About Love is The Example I show Around Me"
(SS, 14K yellow, green & rose gold, amethyst, pink tourmaline) $ 210,-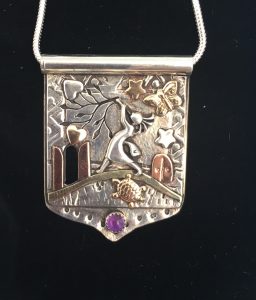 "Leaving the Finished Past, I Go Onward to New Discoveries, Wiser Than Ever"
(SS, 14K yellow, green & rose gold, amethyst) $245,-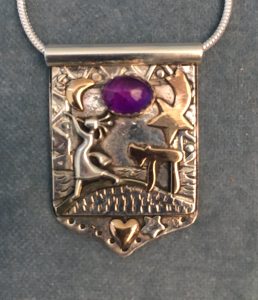 "Sometimes, the Closed Door is my Best Teacher"
(SS, 14K yellow and green gold, amethyst) $ 230,-