Decisions . . .
Deciding on a small or large pendant depends on:

Your size

The power of the statement you want to make, and how comfortable you are in "putting yourself" out there.

Your budget.
If you see a pendant you like but would prefer to have in another size, it is always possible, though keep in mind that I will not be able to put as much detail in a small pendant as I can in a bigger one.  Just contact me, so we can discuss your desires.
Mixing the ageless look of my pieces with the contemporary look of the smooth tube, brings a contrast that I find very appealing, like a complete look that includes two opposites. Nowadays, this is what I mostly use.
Those pieces  include an ADJUSTABLE chain, max 20″ and as short as you need at any time, so you can adjust it very precisely to the length you need, and change it at will.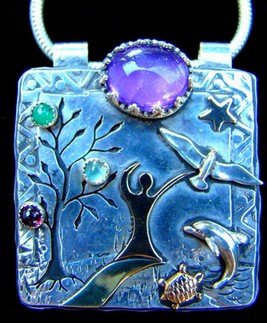 "As I Open Myself to All of Life, I Free my Soul"
(SS – y and g 14K , garnet, aquamarine, emerald, amethyst) $375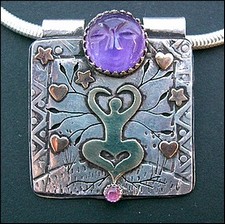 "The More I Nurture Myself, The More  Real Love I Radiate to the World"
(SS, 14Kyg, carved amethyst, pink tourmaline)   $325
"I Sit at the Center of Life, at the Heart of Love"
(SS, 14Kyg, chrysoprase, pink tourmaline, amethyst, aquamarine)   $345.00