Making  a Statement to Others and the World

A pendant  sends a strong statement to others because it is very visible to someone who looks at you. It "sits" near your heart (who you are) or your throat (what you are speaking) and thus "defines" the energy that radiates from you out to the world..  So wearing one of these  pendants filled with symbolism and energy helps you announce to the world who you are and what you stand for.
Using a contemporary tube to slip the chain through brings a contrast to the timeless antiqued look of my pieces which I find very appealing and also very symbolic. It's like a complete look marrying two opposites.
Pendants include an ADJUSTABLE chain, max 20″ and as short as you need at any time, so you can adjust precisely as needed and change it at will.
                                                       OLDER PIECES BELOW: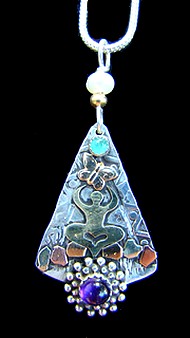 "In the Challenges of My Life Lie the Greatest Opportunities to Grow"
(SS,14Kygr, amethyst, emerald) $169,-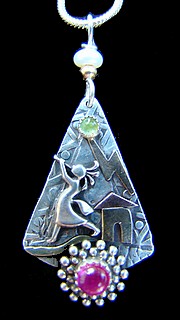 "It's Only When I can Leave Home that I Am REALLY Home"
(SS,14K ygr, ruby, peridot) $169,-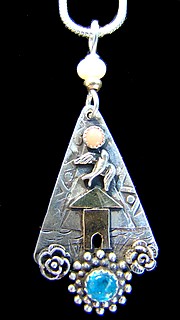 "On a Bed of Thorny & Luscious Roses, I build my Dream Home"
(SS,14K ygr,topaze, coral)   $169,-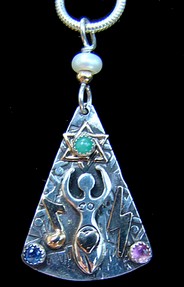 "Song and Thunder Is My True Voice"
(SS,14Ky, iolite, pink tourmaline, emerald)  $169,-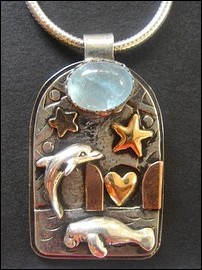 "As I Am Truthfully Who I Am, Joyful and Peaceful Love Appears"
(SS, 14kyr, aquamarine)   $199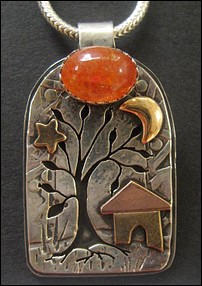 "As I Anchor my Dream in Intention, It becomes Reality"
(SS 14kygr, sunstone)    $199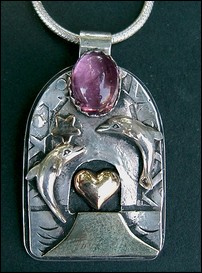 "I Love the Me I See  in the Mirror of Life"
(SS, 14kygr, pink tourmaline) $199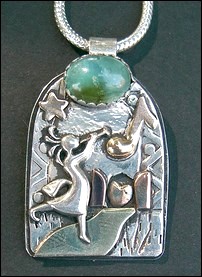 "I Courageously Walk the Path of Self-Acceptance"
(SS, 14kygr, green tourmaline) $199