The specialness of these pieces is their utter simplicity.
The tree is so representative of the human life, and carries within it so much teaching for us to use. I cut each tree by hand and even though I use the same basic design, each one is truly individual, just like each human life is unique.
The smallest tree is nickel-size, the medium is quarter-size, the largest is dollar-size. I can make you any style tree (simple or with a heart) in any of those 3 sizes.
They all come with a 20″ adjustable  round snake chain.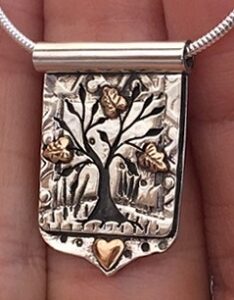 "Body, Mind, Spirit, I Nurture All of Me"
(Sterling silver, 14K yellow gold)  $155,-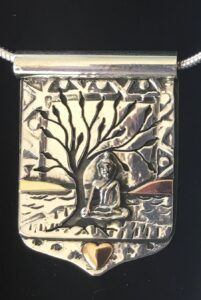 "Stories of the Past, Dreams of the Future, I Appreciate All of Life in the Present"
(935 silver, 3 colors of 14K gold)   175,-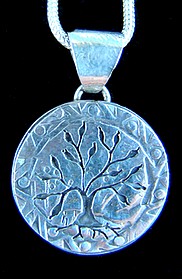 "Tree of Life: Simplicity is My Path"
(SS) –  119,-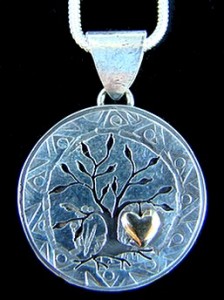 "Tree of Love: I Am all Than I Love, All That I live"
(SS-14K) $145,–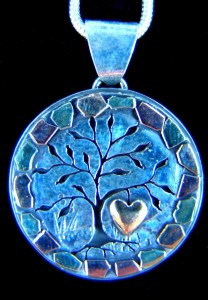 "When the Cycle is Complete, Real Love Just Is"
(SS – 14K green, rose & yellow gold)  $179,-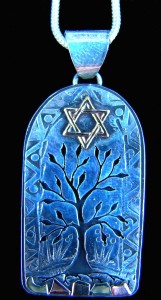 "From the Compost of My Life, I Create Myself a Life of Balance"
(SS- 14K green, rose & yellow gold)   $159,–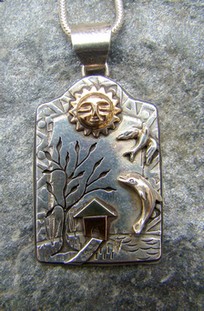 " I Celebrate the Joy of Being Home"
(SS- 14K green, yellow & rose gold)  $165,-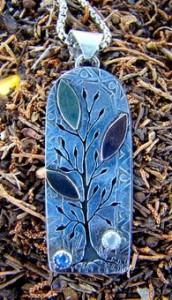 "Tree of Knowledge: From Contrast, I Flourish in Body, Mind and Spirit"
(SS- 14K, sapphire, aquamarine) 175,-
"Tree of Love"
(SS – 14K yellow gold) $149,-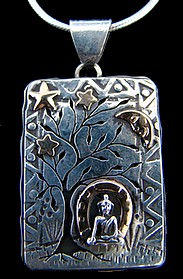 "As I Sit Under the Tree, I Know"
(SS – 14K yellow gold) $175,-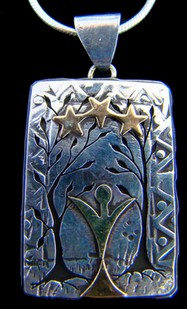 Left, Right and Center, I Walk the Path of  True Wholeness"
(SS – 14K yellow, green & rose gold)  $189,-