A  purposely different but very matching  set
The concept behind my earrings is simple but powerful and full of symbolism:. Each earring in a set  has a different design but both go very purposefully together: Indeed,  they are linked together by the fact that each one is  holding the energy of  half of the sentence written in the back. . . Together, they tell a true story of change, one which I have lived. . . . So when you wear the earrings, the idea is that you become part of this story of change, you are in it, you are surrounded by the beginning on one side and the end result on the other side, so you live it, and the energy of what it took for me to go through that change is passed onto you.
A LEFT & A RIGHT EARRING
It is important to be mindful of which earring is worn on which ear. Sometimes, they can be inter-changed easily, sometimes they cannot. I am often asked why I make left and right earrings. . . Attentive intention is an important ingredient of change. . .In having to think for one second what goes where, you remind yourself that these earrings are not ordinary and have a purpose in your life beyond being simply beautiful. At that very moment, you can easily reinforce within yourself the deep inner reason why you want to wear those earrings. They have a meaning for you, they represent the inner you and what you are walking toward…
NOTE: The  semi-precious stones are 5mm & 3mm.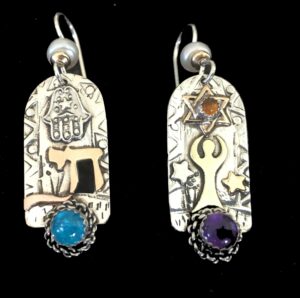 "A Life of Real Faith Opens the Door to Golden Balance"
(SS, 14K, blue topaze, amethyst, citrine)        $179,-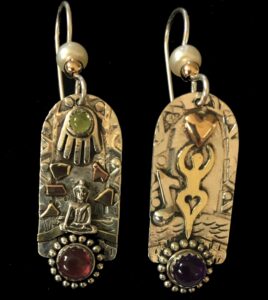 "A Life of Real Love Starts by Loving What I think is Unlovable Within Me"
(SS, 14K, pink tourmaline, amethyst, peridot)       $179,-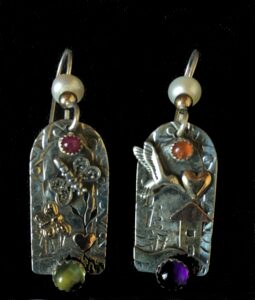 "We Can All Live in Loving Harmony"
(SS, 14, peridot, amethyst, pink tourmaline, sunstone)   $185,-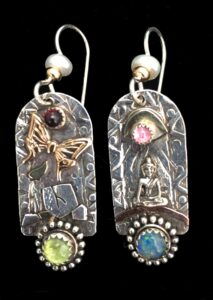 "When the Box Starts Cracking, I Can See and Accept
the  Truth of who I Am"
(SS, 14k green, yellow and rose gold, opal, topaze, garnet, pink tourmaline)                                                                        $189,-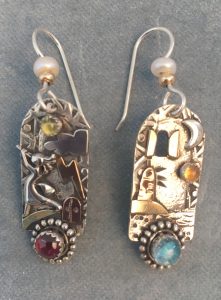 "When I Stopped Knocking on the Closed Door,
I Find it Opens Somewhere else"
(SS, 14K yellow, rose and green gold, garnet, opal, peridot, topaze)  $189,-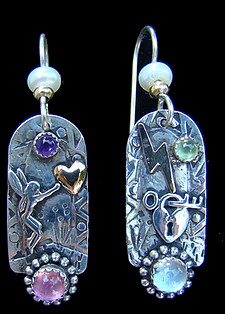 "When Life breaks my Heart, It leaves it Open to Free the Real Love I Am"
(SS – 14K yellow gold – pink tourmaline, amethyst, aquamarine, peridot)   $189,-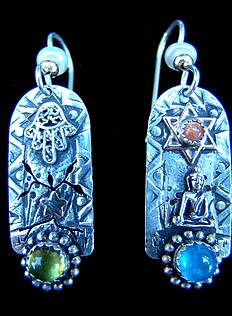 " Wholeness is to Hold Light and Dark in a Full Embrace"
(SS – 14K yellow gold – peridot, topaze, sunstone)  $179,-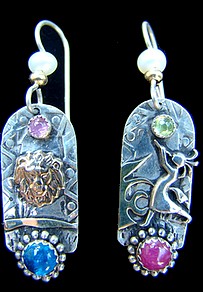 "It's in Facing My Obstacles that I Grow My Power"
(SS – 14K yellow &green gold – topaze, pink tourmaline, ruby, peridot)  $189,-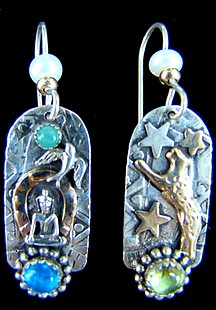 "Real Peace is Found by Befriending Both Lights and Shadows"
(SS – 14K yellow gold – topaze, emerald, peridot)  $175,-