Truly Integrating Jewelry and Healing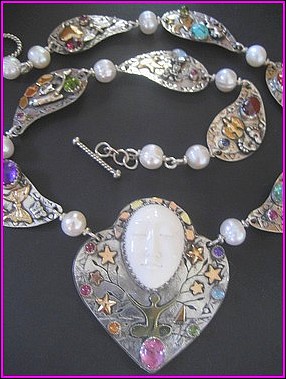 "Grounded in Love for Myself, I Reclaim my true nature, Staringly Beautiful"
(Sterling Silver, 3 colors of 14K Gold, semi-precious stones)
$ 2,400.00
Custom-designed
This is a custom-designed necklace which will be very specifically designed with your own personal journey in mind and will be entirely geared to represent the many elements of transforming yourself. It  will tell a  step by step story  specifically applied to your own life circumstances.
6 months of Inner-Work
The  designing process will be facilitated by the 6 months of inner-work included  in this price. Through frequent email interactions between the two of us, we will work on ANY and ALL aspects of your life you desire . Questions, answers,  and much healing will be specifically adapted to your own situation. As time goes by, I will design your necklace to reflect who you are and are becoming. Wearing such a piece will help you integrate the wholeness of the process you went through. . .Such a necklace comes with unlimited e-mail interactions with me to help you move forward in a way which will be empowering for you. I will show up in your life as a fun, deep and interactive friend. . .see  HERE for an idea of what we will do.

I am asking for a 50% payment in advance during which time we will work together. Final payment will be when you receive the necklace, which could be anytime between 2 and 6 months, depending on needs.

This is  Z adventure. . .  A fantastic present to give someone who is into REAL personal growth!