A French Tradition. . .

Identity name bracelets  have been quite a tradition in France for a long time,  often given by godparents  or grandparents around the age of 12 to 15,more often to boys and  a sort of coming of age present, sometimes associated with a christian confirmation. When I was a late teen, a boy would lend his identity bracelet to his girlfriend who would proudly wear it. If they broke up, she would give it back.
. . . Transformed into a "Soul Journey"

I decided to use this tradition and transform it to make 'soul identity' bracelets. In other words, i use the same sort of shape  as a name bracelet, but the  design on the name place represents a 'soul journey'.  Find one that speaks to you, and , like the rings, you have with you and looking at you a constant reminder of the direction you are choosing to take for your inner and outer life.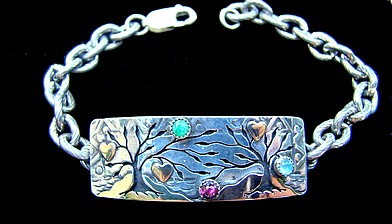 " Separation is What makes Us Grow Together"
(SS – 14K yellow, green & rose gold – emerald, garnet, aquamarine)  $345, –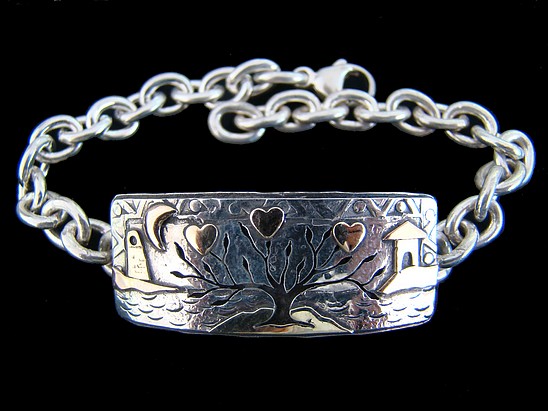 "Between Light and Dark, I Grow to Be my Own Being"

(Sterling Silver, 14K yellow, green & rose gold)  $ 295.-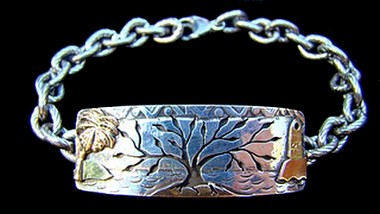 "Between East and West, Neither Here nor There, but Present Everywhere"
(SS – 14K yellow, green & rose gold)  $299,-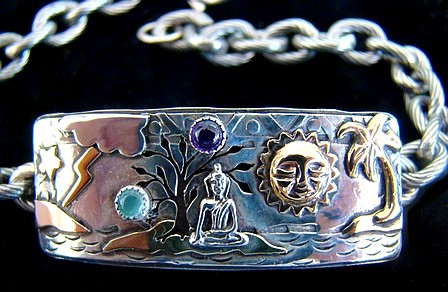 "Between Sun and Storms, I Sit Open-Eyed. . ."
(SS, 14k yellow, green & rose gold, aquamarine, iolite)  $345,-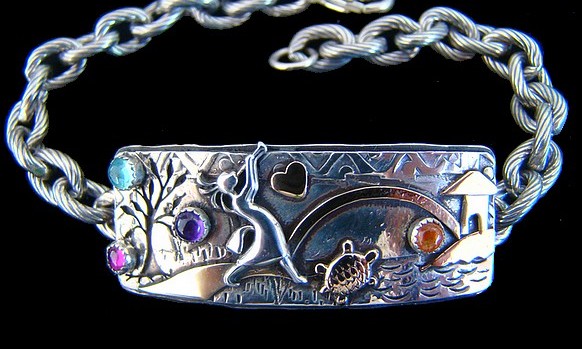 "When I  Have Grown into Myself, I Become a Bridge to a New Reality"
(SS, 14k yellow, green & rose gold, garnet, aquamarine, amethyst, sunstone)  $359,-

"When I Move Between Worlds, I Can Grow in Love for Myself and Share it With All"
(935 silver, 3 Colors of 14K gold, peridot, amethyst, tourmaline)     425,-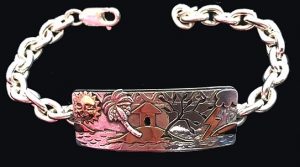 "Between Sun and Storms, I Create Myself, a Home of Balance and Growth"
(Sterling silver, 14K yellow, green & Rose gold)  $325,-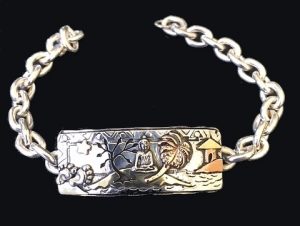 " However Different We Are, We Are the Same, Capable of Living in Harmony"
(Sterling Silver, 14K yellow, green & rose gold)  $325,–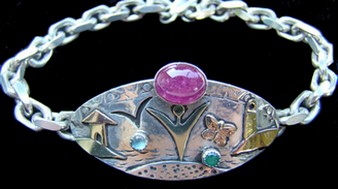 "Truth & Love Stand at the Ever-Balancing Point of All of Me"
(SS – 14K yellow, green & rose gold – pink tourmaline, aquamarine, emerald)  $335,-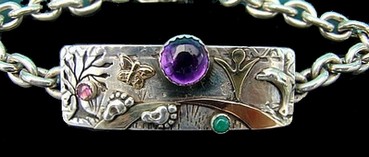 "As I walk Toward the Fullness of my Spirit, I Find the Road to a Freedom
I Never Dreamed Existed"
( SS – 14K yellow, green & rose gold, tourmaline, amethyst, emerald)  $345,-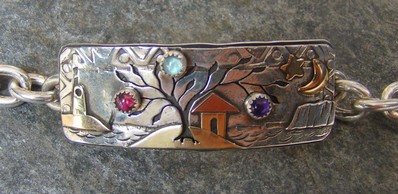 " Between Two French Capes, I Fully become Myself"
(SS- 14K green, yellow & rose gold- garnet, aquamarine, amethyst)  $345,-
***********************************************************************