Making  a Statement to Others and the World
A pendant  sends a strong statement to others because it is very visible to someone who looks at you. It "sits" near your heart (who you are) or your throat (what you are speaking) and thus "defines" the energy that radiates from you out to the world..  So wearing one of these  pendants filled with symbolism and energy helps you announce to the world who you are and what you stand for.
These small pendants come with a sterling silver "round snake" chain (smooth and sturdy) in your choice of 16 or 18? in length.
Please note: The tablet pendants below have been  enlarged to show detail.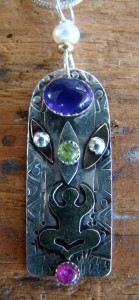 "Knowing"
(SS, 3 colors of 14k gold, pink tourmaline, amethyst, peridot)  $ 175,-

"Dance of Strength"
(SS, 3 colors of 14kgold, aquamarine, ruby)  $175,-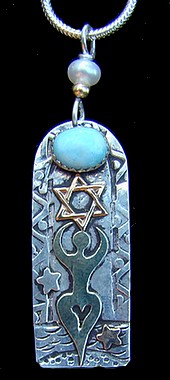 "The Magic of my Wholeness is in Using the Light to Bring the Darkness Back"
(SS – 14K yellow & green gold – larimar)   $155,-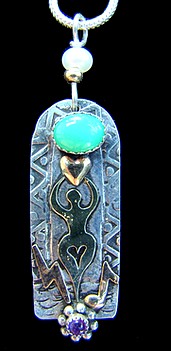 "The Real Love of Me is to Know the Whole of Me"
SS – 14K yellow & green gold – chrysoprase, amethyst)  $159,-
"With Full Appreciation for Myself, I Dance the dance of my Whole Spirit"
(SS – 14K yellow & green gold – tanzanite, ruby)   $159,-
"I am Pure Creation"
(SS – 14K yellow, green & rose gold – larimar, sapphire, pink tourmaline)    $235,-