How Things Sometimes Work
When I first had the idea of making such a style of necklace, it was with the intention  of basically doing what I do with the extra-small earrings  HERE and thus offer you the possibility of choosing among many small pieces to make your own combination.
However, I have not been able to do this once yet! Indeed, whenever I start working, these pieces quickly become part of a whole story, that of what it takes to truly transform, and often the energy swings back and forth between all the pieces. Though I will be very happy to make you  a necklace with individual pieces that have meaning for you (as in possibly a piece for each member of your family?),   I have decided to stay in my own work with  pieces which together make an entire  5-chapter story,  so more in the vein of the linked bracelets HERE.
These necklaces have become among my favorites. I just love the way the energy swings from one piece to to the other and ends up settling on the center piece.
They are best worn close around the neck. An adjustable chain works perfectly for this!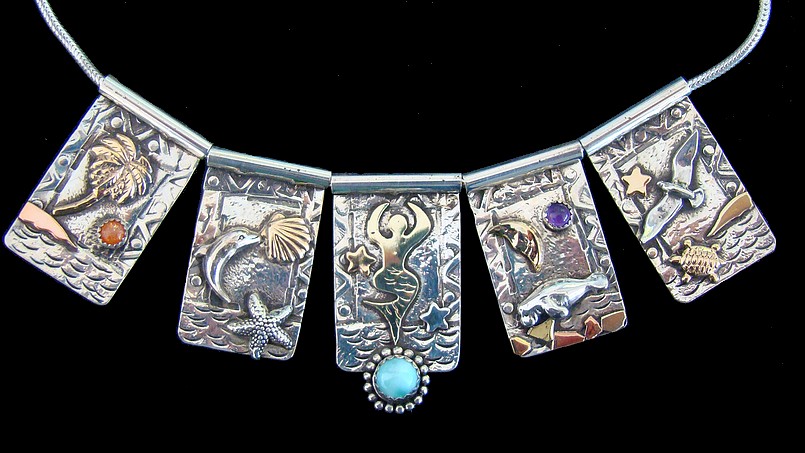 "The More Fully I Know and Live the Joyful Lightness and the Very Real Depth of Life,
The More Magic becomes part of Every Day, Normal, Spontaneous and Natural"
(SS, 3 colors of 14k gold, larimar, sunstone, amethyst)  $345,-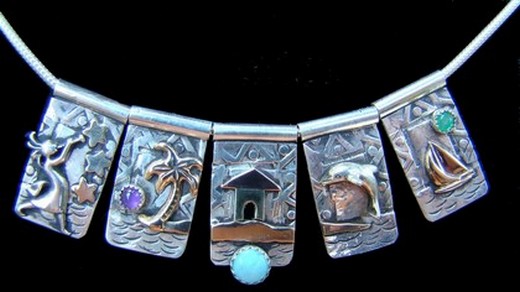 "Home is a Place of Wholeness and Freedom"
(SS – 14K ygr – larimar, amethyst, emerald)   $335,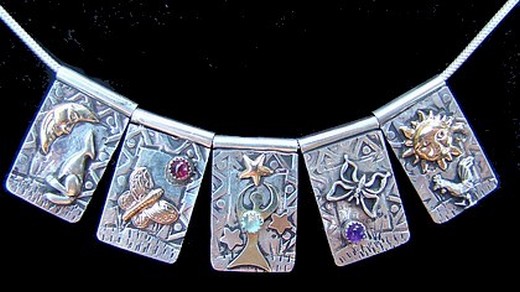 "Night and Day Are Both Necessary to make me Whole"
(SS – 14K yellow & green gold – aquamarine, amethyst, garnet) $345,-
"During the Day, I Flourish. During the Night, I Open  Locked Doors. I Love It All"
(SS- 14K yellow, green & rose gold – emerald, tourmaline, garnet)  $335,-